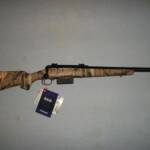 Estimated Price: $ 660
Source : http://images.search.yahoo.com/images/view?back=http://search.yahoo.com/search?...
Comes in either black or camo composite stock and forearm. Bolt action, comes drilled and tapped for a scope, sling swivels included, 22" rifled bull barrel, excellent recoil pad. This gun is deadly accurate to 200 yards and beyond when shooting sabot slugs.
Login
to comment