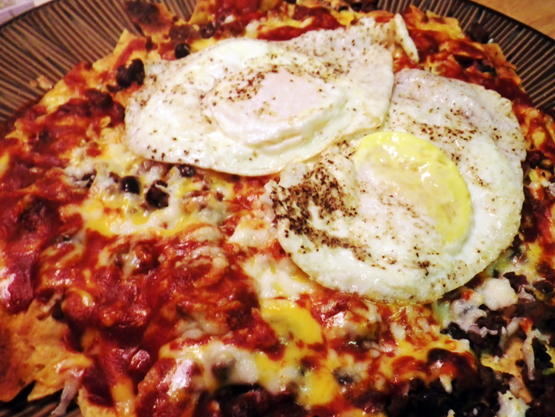 Source : http://www.fieldandstream.com/blogs/wild-chef/2012/10/recipe-chilequiles-aka-cr...
Deer camp food.

Ingredients
-Chile Colorado
-6 corn tortillas, cut into wedges and fried (or a couple handfuls of tortilla chips)
-1 cup cooked and shredded meat of your choosing (browned venison burger is also great)
-1 cup Colby jack cheese, shredded

-Queso fresco
-1 Tbsp. canola oil or bacon grease.
-2 to 4 eggs

Garnishes
-Pickled red onion
-Chopped cilantro
-Lime wedges

Directions
Prepare Chile Colorado, omitting the pheasant.

Preheat broiler.

Heat oil or bacon grease in non-stick pan set over medium-high heat.

Fill a large bowl with fried tortilla wedges or chips and meat. Pour in the red chile sauce and toss everything together. Transfer the mixture to an oven-proof pan or pie plate. Cover chips and meat with shredded Colby jack cheese. Place chilequiles in oven and broil 3-4 minutes, until cheese is melted.

Meanwhile, fry eggs in hot grease to preferred method. (I like mine over-easy to medium.)

Pile the chilequiles on a plate, top with fried eggs and crumbled queso fresco and enjoy.
Login
to comment