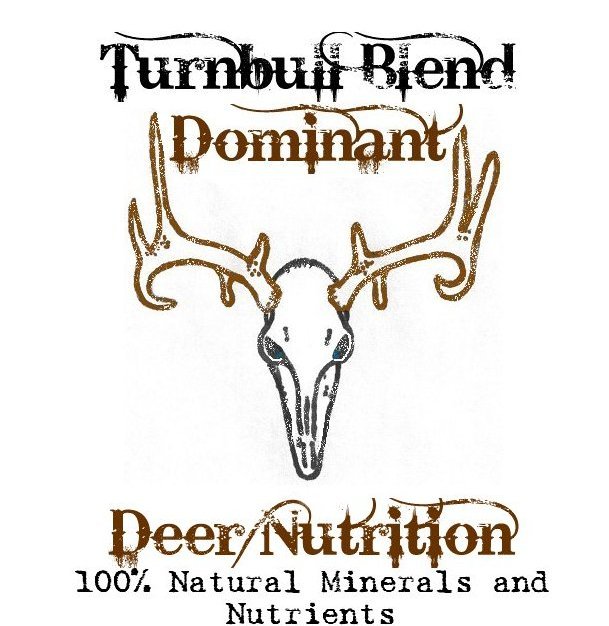 Estimated Price: $ 1.75
Turnbull Blend Dominant Deer Nutrition is a mixture of grains, minerals and sweeteners that is 100% natural with no artificial preservatives or colorings. Honestly, it looks and smells so good, you'd want to pour hot water over it and eat it for breakfast yourself, although it is just for wildlife.

Months of research and years of experience have led us to the ideal blend of minerals, nutrients and proteins that will help your white tail herd thrive and especially survive during those hard seasonal times. Whether for the pregnant doe preparing to give birth and nurse that future Boone & Crockett buck, the current herd buck that has spent 30 days rutting and needing nutrition, or those deer enduring hard winter or drought conditions that need everything they can get to survive, our supplement will help.

You will not find us on the shelf of any department or big box store. We are a custom order generated company only at this point and our quantities can easily reach 1/2 ton for an order. Our guarantee is simple: our goal is to provide an effective and inexpensive product for you the hunter, back yard deer watcher or land manager.

Our prices are influenced more by the cost of shipping than anything and can vary depending on the volume of product purchased and the delivery destination. Ordinarily we will charge as little as $1.60 per pound.

We are also able to custom blend for your immediate needs. If you know specifically what ratios of proteins, minerals, and nutrients are needed for your area given specific conditions, we can easily meet your needs. If you do not, we will help you find out. Drought supplement needs in Texas are quite different than drought supplement needs in Minnesota.

We want to work with you to meet the supplemental dietary needs of your herd.

Feel free to link to us through our website of turnbullblend.com for Facebook and for email and let us know what you need.

Our effort this year is also our twenty five-twelve promotion where we will donate 25% of our total company net profit in 2012 to breast cancer research.
Login
to comment